Do you love the art of Make-Up?

Re-Creation Studio can teach you the tools to turn that love into a thriving business. The world of make-up artistry offers limitless opportunities. Creative Media Make-Up artists can make $400-$1000 a day. With a desire for artistic expression, the right education, and knowledge of the business, you're on your way to the top.

Most artist schools are located in LA and NY. They teach you how to work in those markets. But what about all the cities in between? There is a need for make-up artists in EVERY city. We teach you how to find the market in your area. We will also teach you the skills that will help you when presented with almost any media make-up situation. You will be fully prepared to go after the business you are so passionate about.

Don't just work, do what you love. Contact Re-Creation Studio and learn to create the faces of the future.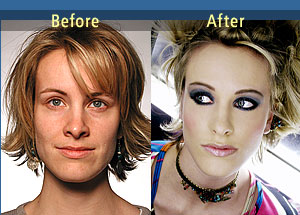 Now you can hire out one of the nation's top make-up artists for your special events, such as image consulting, wedding parties, VIP events, family photos, prom, film, tv, print, or commercial shoots, or even just for a fun girls night out makeover party. ... more info.