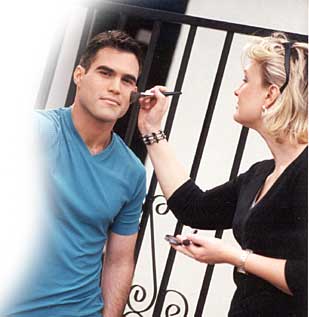 Holly Mathie is no stranger to business and the beauty industry. Starting as a model at the age of 14 she decided that she preferred to be behind the scenes rather than in front of the camera. She choreographed fashion shows, selected models for events and assisted her agency with make-up.

Her skill for make-up artistry quickly became recognized and the demand for her talent launched a career that would take her all over the world. She moved on to train in Los Angeles at AWARD, a leading make-up artist school in the west. She is also a graduate of Avidere School of Image Management where she studied visual design and the elements and principles of fashion design including lines, shapes, colors, textures, balance and proportions. She received a bachelor's degree, and took a position as VP of Merchandising for Overstock.com. There she learned the business skills of resourcing, buying, marketing, and negotiating.

As a make-up artist, Holly recognized the need for a make-up school which catered to people who work in all cities-not just the east coast fashion, or west coast film markets, and which taught an accelerated curriculum specific to media. Working with high position corporate figures, she also identified the need for training on the power of image. She started Re-Creation Studio, a media make-up artist academy which offers an unparalleled one week comprehensive training school in media make-up application (learntodomakeup.com) and image management company (yourimageyourway.com) which specializes in media make-up artistry services, wardrobe styling, public speaking, etiquette, corporate image, and personal shopping.

Today, with her business skills and her passion for the art of make-up, Holly manages a successful career as an educator and a veteran make-up artist of 18 years. Her experience includes working in various media with production companies, actors/actresses, models, brides, and photographers. She is a consultant to several cosmetic distributors, spas, and salons where she teaches makeup application and technique as well as wardrobe styling. She is a nationally recognized educator of cosmetic application and the power of image, and is a personal image consultant to people ranging from high position corporate figures to the every day woman. Her experience also includes producing and hosting image and styling television programs, providing fashion merchandising services to apparel companies, designing image styling products, developing fashion styling training programs, coaching corporations on the power of image and creating a make-up artistry curriculum for schools. Holly has appeared on radio and television including ABC, NBC, CBS and Fox networks and is the Fashion and Beauty Expert for KSL's Studio 5 where she hosts a weekly live television segment on style.